If you'll allow me to brag for a moment, I'll tell you about my trip to the White House. During the first week of October 2016, I had the honor of spending a few days in and around the historic establishment. Now, I'm no journalist, and I prefer to keep this blogs focus on my lifestyle not my life. The details of my day to day personal life will rarely grace these pages. But, the impact of this experience has helped shape my future, and I need to share this in order to tell you what comes next. And so I present my White House adventure…
The occasion was a festival called South By South Lawn (SXSL). Most people have likely heard of the South By Southwest (SXSW) festival, which is a longstanding hotbed of great music and films. But, it also features panel discussions on some of the most important topics for the culture of today, and of tomorrow. After President Obama's visit to SXSW in 2016, the White House team decided to capture that spirit on the South Lawn.
I'll refrain from "reporting" on the event, you can read about it straight from the White House website. There is also a great photo spread on the White House Medium channel. (shameless plug: I'm in the last picture, preparing close out the day by watching the premier of Before the Flood).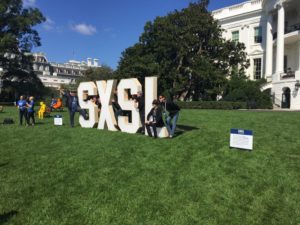 The day began with a bang, as I got to help the one and only Adam Savage (MythBusters, Tested.com) set up a SXSL sign he had helped create with a team of Makers from Baltimore. You can watch his build video here! And, here is a time lapse video the White House crew made of us setting it up.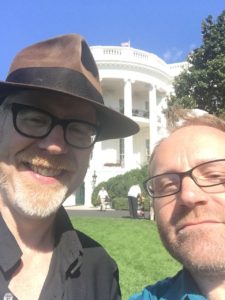 In my previous life, I had the pleasure of meeting an incredible number of famous folks, but none more gracious than Adam. Our conversation covered topics from difficulties in making 100% whole wheat bread to similarities between tempering steel and conching chocolate.
The event was graced with a number of exhibitors, many of whom were involved in food based initiatives. These were of particular interest to me, as I had just harvested my first successful garden (more on that later), and was keen on growing as close to 100% of my own food as possible.
Among the attendees was Green Bronx Machine and Kitchen Garden Laboratory. In a world where a staggering number of children don't know where food comes from, these two initiatives are teaching students about food and nutrition, even in an urban agriculture setting. Together, they were preparing incredible food picked straight from tower gardens.
The Global Alliance for Clean Cookstoves had an incredible selection of stoves on display. Solar stoves, solar ovens, alternative fuel options, and stoves that can charge electronic devices while they cook. In less fortunate parts of the world, many are forced to cook with wood indoors, causing millions of deaths from smoke inhalation. These stoves offer safe and efficient options for the 3rd and 1st world alike.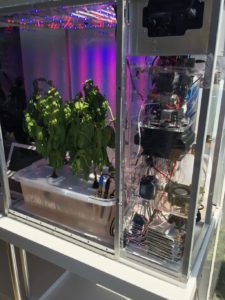 But perhaps the most inspiring part of the day was my visit to the tent of the Food + Future CoLab, a joint venture between IDEO, Target, and the MIT Media Lab. I met Caleb Harper, who introduced me to his Food Computer. Caleb runs MIT's Open Agriculture Initiative out of the Media Lab.
You can expect dedicated writing about the food computer, but here is the gist. It is essentially controlled climate growing. This is not new in and of itself. Greenhouses and hydroponic growers have long since employed such techniques. You can even buy commercial machines much like Caleb's food computer right now, but you will spend thousands to grow very little food, and be subject to proprietary technology in a "black box".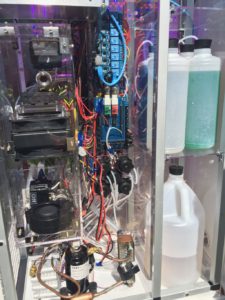 In traditional MIT spirit, the food computer is open source, so there is a much bigger community picture at play here. The computer uses a "climate recipe" to control all of the variables. If you devise a successful climate recipe, you can share it with the community. Likewise, you can search the database to see what recipes are available, and download one that suits your needs. Plant a seed, press play, wait for food. All of this community effort will enhance the hardware design, software design, and climate recipe database. The result is a system that gets easier and cheaper to build and operate, and most importantly can be scaled up. There are already Food Servers (shipping container sized food computers) and plans for warehouse sized Food Data Centers. These systems can be deployed in cities to provide a local food source, or in areas/climates where food is scarce. I'll be writing more details about this as I engage in this initiative myself.

So my trip yielded some much needed inspiration and direction, and my tour of the underbelly of the White House machine was unprecedented. I'm not sure if the experience is a testament to how cool I am, or how cool my friends are, but I'm quite certain it's the latter.